The recent ICARB workshop on accounting for carbon in land-use revealed support across land-uses for further work to understand and compare accounting methods across forestry, agriculture and in peatlands. We will take these ideas further and formulate a plan towards greater integration over the coming year.
Participants primarily included land-use consultants and researchers based in Scotland.
The group looked at two main areas – the tools already available and also whether a combined tool was required.
1. Existing Tools
In addition to the list provided to the group (see Annex), the following tools were identified:
Ecological Site Classification (feeds into the Woodland Carbon Code tools)
CEH's CFLOW model for woodlands (currently used in National Inventory report)
National Forest Inventory forecasting system (FC) – forecasts carbon stocks across GB.
SG/ SEPA windfarm carbon accounting tool.
REAP – used by Local Authorities for area-based emissions/sequestration (in need of update as contains old/2006 data?)
Accounting tools for the developing Peat Carbon Code – being developed by Marian Smyth at Crichton Carbon Centre. SNH/Defra will be piloting later in 2013.
Landuse allocation models such as Ian Bateman's work for the National Ecosystems Assessment 2.
Do we need to know more about Scotland level? Or farm/holding level?
It would be desirable that a similar/same approach was used at the Scotland level and project level accounting.
Should we extend existing studies to compare / evaluate available models?
The group felt it would be good to do further analysis to fully understand the relative benefits (and differences) between the models – as a first step towards creating a more integrated model for landuse incorporating the best of tools for forestry, agriculture, peatlands etc.
To complement existing studies listed in the Appendix it was felt that some kind of analysis to compare projects including but not limited to the following attributes would be very useful:
Purpose: purpose of tool, farm-level or scotland-level
Scope: GHG emissions (CO2 / N2O / CH4), geography (Scotland/UK/global), landuse (eg livestock, grassland, horticulture, woodland), timescales (annual, 100s years for woodland)
Ease of use: cost / format (web/spreadsheet/application)
Methodology: references, accounting principles (relevance, completeness, consistency, transparency, accuracy)
Outputs: can you store them? / where stored? / format? / ease of understanding
Other add-ons Mitigation options/advice available?
Maintenance/updating & durability
Strengths / weaknesses
Other issues considered wider than carbon (ie soil quality biodiversity etc)
Qualities of a model
Easy to use / applicable to landowners if they are the audience.
Relevant
Consistency (all ICARB's 'qualities'
Whatever's created needs to be easily updatable. New techniques may mean overarching 'model' can pick up changes from the 'modules' sitting underneath?
2. Integrating models
The group discussed whether or not there was value in creating a new model or integrating elements of existing models to have a more 'cohesive' account of emissions and sequestration in landuse, taking the best for each sector.
There were a number of questions, and there was enthusiasm for some integration of models in some form, but the group felt more work needed to be done to scope out the potential users and their requirements of such a model before deciding whether a 'one model does all' approach is indeed possible.
How to account for peat – how and which model?
How to consider what's the stock now and what's the likely stocks in the future? (CC impacts on storage too?)
How to consider woodland management?
What about leakage – within and outwith the UK?
Timescales considered by each model – are we looking at 1, 50, 100, 1000 years – has implications for the 'carbon balance' produced
Is it the flux or stock (and its longevity) that's key – all for different purposes.
What's the purpose?
What's the audience? If it's landowners do they want such a tool? Who's using them at the moment and who do we want to use them?
What about agroforestry and small woods – do any models cover this yet?
Can you link to payments for managing land differently (to see the benefits of the options available?)
Could develop a 'hybrid' model – with a mixture of top-down existing models and bottom-up knowledge of specific areas to feed in.
Could be modular to allow use of the best ' modules' from agriculture/forestry etc
Funding available from Sustainable Scotland Network to help develop area-emissions tool for Local Authority level reporting.
Can there be a mapped element to the model?
What about catchment scale / coordination of effort across a wider area?
Mike Berners-Lee – author of 'How Bad Are Bananas?' might be a good person to ask about integrating models?
It would be good if any model kept in mind wider benefits (soil quality, water, biodiversity etc) rather than just the 'carbon' account.
We began to create a list of who might require such a tool and why they might want to use it.
Architects
Carbon embedded in products (eg timber from woodlands)
carbon impact of a development
Local Authority
Emissions by landuse type / by LA / by year
Emissions of LA sub-areas
Planning departments
To help evidence planning decisions land-based emissions as a result of a development)
Land manager
To optimise financial viability
To 'value' land (social, econ and envtl)
To create and sell carbon credits (for C sequestration … or avoided loss of C?)
Large landowners – if they are mandated to report emissions if Mandatory reporting applies to more companies?
'Pull' of manatory reporting for larger companies feeding back up the supply chain?
To understand carbon emissions / sequestration after the forest gate?
Producers
To understand c emissions of product thoughout lifecycle (eg incl growing potatoes for crisps)
Other issues/thoughts
Payments for Ecosystem services – can you 'stack' the environmental benefits of a project and how does a landowner receive these payments?
A system whereby credits are sold for carbon or other ecosystem services requires independent validation and verification.
Monitoring prior to verification could mix traditional ground-truthing with remotely sensed data.
If you can use model to show c emissions of land area – could there be an 'Energy Performance Certificate' for land areas/emissions?
Full notes and appendices to these minutes are available from the PDF version which you can download here.

About Dr. Vicky West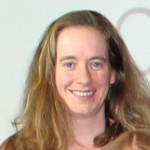 Dr. Vicky West is a Climate Change Specialist Advisor at the Forestry Commission. Based at their offices in Corstorphine, Edinburgh, she advises on accounting projects including the Commission's Woodland Carbon Code. Vicky is a member of ICARB's Advisory Board and has given a number of talks and workshops on accounting for land-use and forestry for ICARB.