Thermal and Electrical Energy Storage Workshop: Scoping the Opportunities for Scotland
The 2014 ICARB workshop programme started with an extended Backcasting process exploring whether Scotland could be 100% Renewable by 2030. This resulted in three developed Visions:
Better Together: Big Grid with Nuclear
Going it Alone: Scotland Centric solutions
Autarkic: predominantly local self-sufficient energy systems
All three required extensive energy storage as a key component of their desirable future energy for 2030 and beyond. This workshop will provide leading edge insights into how this might be achieved from UK and European leaders in the field, followed be workshops on individual storage approaches.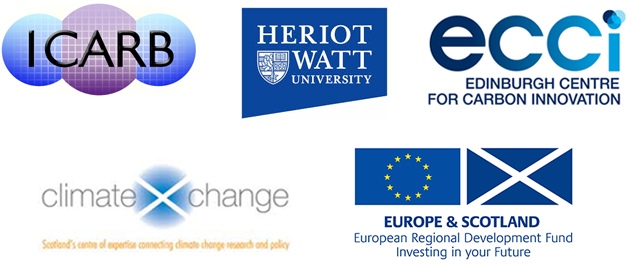 Draft Workshop Programme
9.00 am   Registration and Coffee
9.30 Welcome and Introduction to the Day. Professor Susan Roaf.
9.40 Emerging Scottish Policy to promote energy storage, Chris Stark, Deputy Director, Energy and Climate Change, Head of Electricity, Scottish Government.
10.00 The Role of Storage in Smart Energy Systems, Professor Henrik Lund, Aalborg University, Denmark.
10.45 Storage integration in heating systems at domestic, community and industrial scales. Prof. Dr. Klaus Vajen, Kassel University, Germany.
11.15 Coffee
11.45 Inter-seasonal heat storage systems: Lessons from the Danish Experience, Dr. Ebbe Münster, PlanEnergi, Denmark.
12.15 Energy storage in urban multi-energy systems, Professor Marco Masoero, Politecnico di Torino.
12.45 Optimising energy storage within micro-grid systems, Eddie Owens, Heriot Watt University
13.15 Why Energy Storage? Dr. Grant Wilson, University of Sheffield.
13.45 Lunch
14.30 Workshops (with tea and coffee) (Each chaired by one of the following of the workshop team: HWU academic, a guest academic and an industry chair)
Thermal Storage Systems for Buildings and Communities. Chair: Professor Ian M. Arbon with Professor Klaus Vajen and Ebbe Munster.
Energy storage media: Phase Change Materials, oils, chemicals, solids and Thermal Mass, Chair: Professor Colin Pulham, Edinburgh University.
Grid level energy storage for electricity and transport. Chair: Dr. Iain Staffell, Imperial College, London.
Energy Storage and Conversions with Hydrogen & Fuel Cells. Chair: Dr. Nigel Holmes, Scottish Hydrogen & Fuel Cell Association.
Origin: Control systems for optimising micro-grids and thermal systems. Chair: Dr. Eddie Owens, Heriot Watt University.
Charging ahead with battery technology.  Chair Dr. Scott Lilley, Energy Technology Partnership.
16.30 Feedback session from the workshops
16.50 Closing address and next steps
17.00 Sponsored reception (optional) – networking 
Accommodation Information
Attendees are able to stay at a wide variety of hotels and B&Bs in the city of Edinburgh.
Close to the City Chambers is IBIS on 77 Clerk Street and 6 Hunter Square.
A range of B&B options can be found on TripAdvisor as well as Visit Scotland.